Inline Multi Species Sonic Blade Big Flash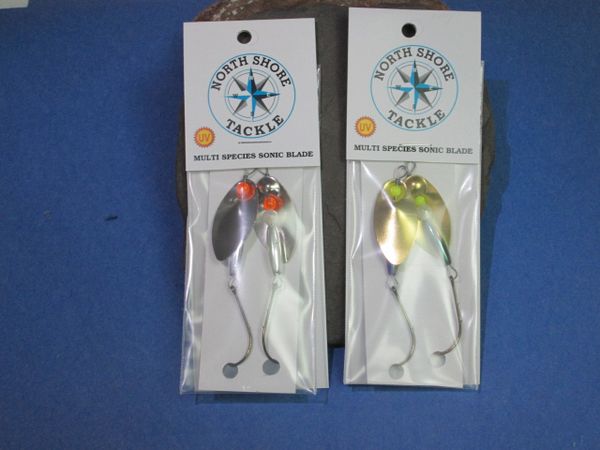 Inline Multi Species Sonic Blade Big Flash
Our Sonic inline spinners include a glow recharagable bead Plus UV reactive beads .The Chrome and Bass Blades put out a tremendous flash to lure all species in to bite.
Stainless steel shaft and lazar shape hook .
Our Inline spinner Minnow pattern is for all Multi species angling from our beloved Trout to Walleye, Pike, Bass Perch, Crappie, and Bluegill.
Sold as 1 package of 2 spinners.
All inline minnow patterns include a #4 sonic blade ,#5 blade on all big flash spinners, #2 laser pointed Bait hook .
This hook can be trout safe and USA regulated barbless. Using a bend the barb single hook is always better for your fish species. The inline spinner has a stainless steel shaft and a sonic blade. They come in many colours and finishes include a glow bead . (A little glow aways helps.)
From casting and trolling to vertical jigging, including lakes and river angling.
Fished with no added bait or tipped with a worm, minnow or leach,soft plastic these minnow patterns are money..
Add and stinger hook and some extra beads to duplicate a worm harness
Our Youtube video on harness building or adding a stinger hook.
https://www.youtube.com/watch?v=dR8HApGKqlo&t=2s

Thanks for watching
Reviews