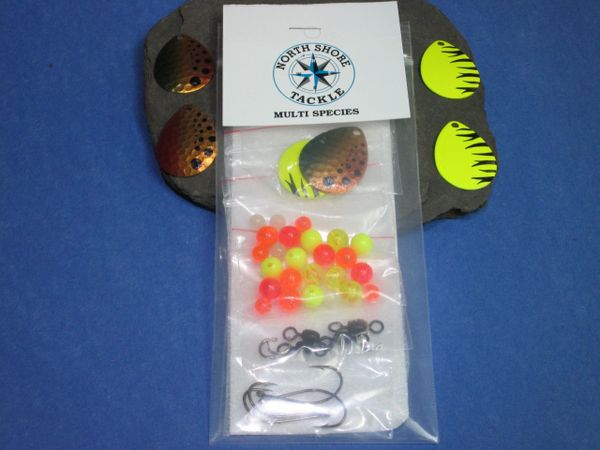 Worm Harness UV kit
THIS IS A YOU BUILD KIT NO LINE INCLUDED
Worm Harnes have been used for many years I can a cross a Angler that had been making worm harness for over 50 years at a North Bay Fishing camp and supplying then to there guests as a proven way to catch all species of fish .
We have been building our own harness for over 25 years .
Tipped with a large Dew worm,Leech,or Minnow any worm harness has the ability to out fish all other types of lures.
The Ability to change your beads , add more , remove some , add weight,add a stinger hook ,add a Flashabow hook . 
The simple worm harness becomes very versatile.
We have put together harness kit which includes .
4 hooks size # 4 laser sharp offset (helps with the movement of the bait)
4 swivels option to use or not (but recommended to reduce line twist) allows for easy building of harness.
4 Celivises specific for use on line .
4 size 4 Colorado blades 
25 Mixed North Shore UV beads and 4 (6mm glow included in the pack)  total beads 25
Choose from the drop down Chartreuse stripe and Brass hammered  blades 
Or Yellow Five of Diamonds and Tiger stripe 
Fluorocarbon and Monofilament fishing line not included ( we use Fluorocarbon  8-20 lbs)
YOU BUILD YOUR  SPECIFIC  HARNESS 
adjust your length and style of harness to your angling preference.
ADDITIONAL  North Shore trout beads available recommended  all UV Acrylic and UV Glass beads
How to video from North Shore
https://www.youtube.com/watch?v=dR8HApGKqlo

Reviews